What is recycled polyester?
The recycled polyester used for textile production is often made from PET bottles, basically old plastic water or soda bottles. Our garments are made from PET bottles collected from the nature in Karur, India. These are then sorted by colour, shattered, processed and made into new yarns. In our factories, we use no chemicals in this process.
Is recycled polyester really sustainable?
Yes, we mean that it is. We engage locals in the villages in India where we produce our garments to collect PET bottles from the nature. Like this, we prevent plastic waste from going into our oceans or to landfills and provide local families with a steady income. Ideally, the amount of plastic thrown in the nature should be zero. But until that happens, the next best thing is to collect it and keep it in the loop.
 By using recycled polyester, we also hope to decrease the production of new polyester, saving up to 79% of carbon emissions per garment.
 To ensure the lowest carbon footprint possible, we have set up the whole supply chain within a short radius. The collection of the bottles, turning them into new yarn, knitting, sewing and packaging of the finished goods are all made locally in villages in India. Our garments are also GRS certified.
Where is recycled polyester used?
The recycled polyester is perfect for sports garments, such as tops, tights, socks and jackets. We also use it in a mix together with recycled cotton, to make extra durable clothes that lasts longer. The recycled cotton fibre is not as strong as the virgin cotton fibre and need to be mixed with another material when turned into a garment. That's where recycled polyester comes into the picture.
Our mix is usually 60% recycled cotton and 40% recycled polyester, giving the garment a cotton touch with some added benefits from the soft polyester fibres.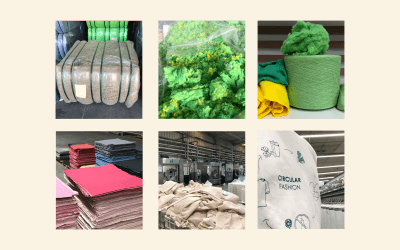 By now you've probably heard that by 2025 the EU imposes a separate TextileWaste collection, for a.o. household textiles. How and what to do with the sorted textiles, is still🤷‍♀️ The collected textiles, will include everything from dirty worn-out socks, unworn...